INSULSARK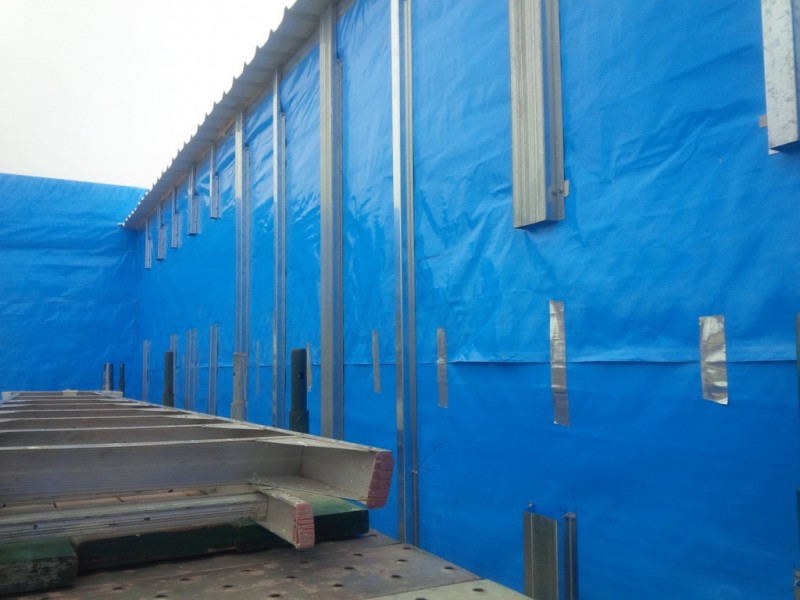 Overview
Sizes
Specify
Gallery
Library
Overview
Sarking & Wall Wrap
INSULSARK sarking and membrane which is designed for multi-purpose use as both roof sarking and wall wrap. Availalbe in waterproof and breathable sarking variations, the reflective foil face on one side provides extra R-value when installed facing an air cavity. The other side is coated in an advanced anti-glare coating. INSULSARK sarking is classified as a barrier to radiant heat, moisture ingress, draughts and dust penetration when installed as per AS 4200.2.
---
Easy to Use
INSULSARK sarking is a high strength and ultra flexible product easily adaptable for wrap-around areas and varied surface types therefore quick and easy to install.
Anti-tear Strength
With reflective foil and multi-layer woven construction, INSULSARK sarking is able to withstand moderate wind and won't tear of the building when under pressure.
High Durability
The poly woven reflective foil has an advanced coating with one side anti-glare meaning INSULSARK sarking offers excellent resistance to delamination over time.
Proven in WA
Used widely for all applications in Western Australia, INSULSARK sarking has proven on numerous projects statewide to withstand the harsh climate and elements.
BCA Compliant
INSULSARK sarking has been tested in accordance with relevant Australian standards giving confidence to builders and contractors for suitability in all applications.
Water Resistant
The heavy duty facing material structure of INSULSARK sarking means there is no moisture ingress or break-down ensuring superior long term performance.
Protects the Building
During construction INSULSARK sarking will help protect the building frame from the external elements helping to prevent onset of any degredation or corrosion.
Fire Resistant
Suitable for use in bushfire prone areas, INSULSARK sarking has low indicies when tested in accordance with AS1530.2 meaning it is suitable for use in all classes of buildings.
Sizes
Product Range
| Code | Description | Availability | MOQ |
| --- | --- | --- | --- |
| ISS13560 | INSULSARK Waterproof Membrane, 1.35 x 60m Roll | Stock | 1 Roll |
| ISB13560 | INSULSARK Perforated Membrane, 1.35 x 60m Roll | Stock | 1 Roll |
| ISM1530 | INSULSARK Vapour Permeable Membrane, 1.5 x 30m Roll | Stock | 1 Roll |
| ITR4850 | INSULTAPE 48mm Reinforced Foil Tape, 50m Roll | Stock | 1 Roll |
| ITR9650 | INSULTAPE 96mm Reinforced Foil Tape, 50m Roll | Stock | 1 Roll |
Technical Data
| Test Item | Standard | Result |
| --- | --- | --- |
| Flammability Index | AS 1530.2 | Low <5 |
| Emittance | AS 4201.5 | 0.03 |
| Reflectivity | Actual | 97% |
| Water Barrier | AS 4201.4 | High |
| Dry Delamination | AS 4201.1 | Pass |
| Wet Delamination | AS 4201.2 | Pass |
| Corrosion Resistance | AS 4859.1 | Pass |
Specify
Contact This email address is being protected from spambots. You need JavaScript enabled to view it. for specification and design assistance.
Gallery
Library
This email address is being protected from spambots. You need JavaScript enabled to view it.

This email address is being protected from spambots. You need JavaScript enabled to view it.