NVELOPE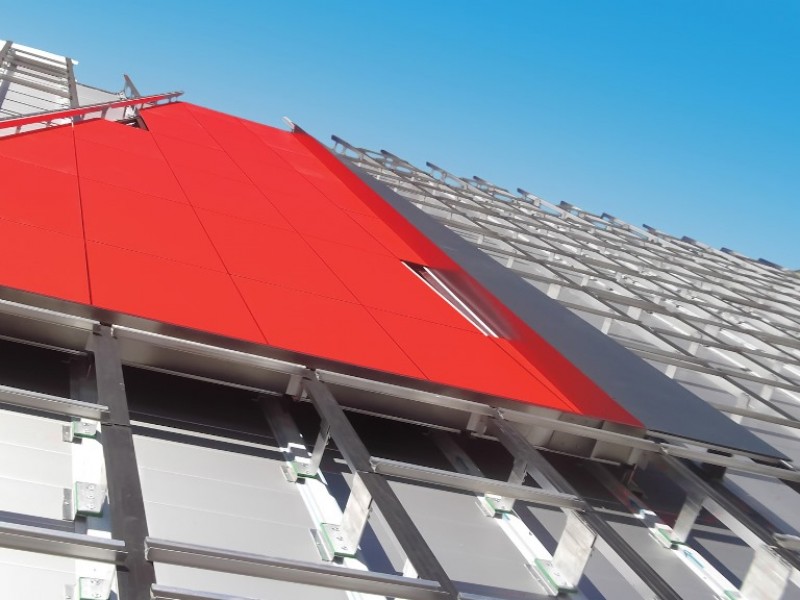 Overview
Availability
Gallery
Downloads
Support
Overview
Aluminium Subframe Systems
NVELOPE is a range of aluminium subframe solutions to make facade design and installation easier and faster. NVELOPE systems are produced from the highest-grade alloys and manufactured under ISO 9001 quality management for use in the most demanding façade applications. Concealed fix and visible fix solutions are available for most cladding types and the structural requirements of the system can be calculated to ensure the integrity of the system. Project material quantities can be accurately estimated early to manage cost and ensure complex facades are made easy.
---
User Friendly
NVELOPE is an installer-friendly cladding system designed by installers for installers for use with most key types of façade cladding materials and endorsed by most cladding suppliers.
---
Local Back-up Stock
NVELOPE brackets, rails and accessories and in stock which means you can get a project underway at short notice with early estimations of material quantities ensureing timely project completion.
---
Technical Support
The NVELOPE technical service package includes static analysis, installation advice and installer team training for every project guaranteeing the highest level of quality and long-term performance.
---
Thermal Benefits
NVELOPE brackets are pre-assembled with thermal isolators to reduce thermal bridging and the rainscreen concept provided by this type of system offers the worlds best-practice thermal efficiency.
---
Corrosion Management
NVELOPE isolators prevent both chemical reactions occurring between aluminium brackets and concrete structures and avoids bimetallic corrosion between aluminium brackets and steel structures.
---
High Durability
NVELOPE is exceptionally durable. Even in the most demanding applications NVELOPE has a design life expectancy exceeding 50-60 years and is suitable for the harshest environments.
---
Manufacturer's Warranty
NVELOPE system comes with a project specific 10 Yr. warranty when installed by a certified installer and can be provided in conjunction with façade material warranties to offer full system cover.
---
Ventilated System
NVELOPE ventilated subframe systems allowing for the building envelope to breathe which increases thermal and energy efficiency and promotes healthier buildings for occupant well-being.
---
Availability
Profiles
NVELOPE
60mm L-Profile
NVELOPE
40/60mm T-Profile
NVELOPE
Carrier Rail
NVELOPE
TUF-S Hanger
NVELOPE
40mm Bracket
NVELOPE
60mm Bracket
Availability
| Code | Description | Lead Time | MOQ |
| --- | --- | --- | --- |
| NVLP6040 | NVELOPE 60 x 40mm L-Profile, 6.0m Length | Stock | 1 Length |
| NVTP40100 | NVELOPE 40 x 100mm T-Profile, 6.0m Length | Stock | 1 Length |
| NVTP60100 | NVELOPE 60 x 100mm T-Profile, 6.0m Length | Stock | 1 Length |
| NV3CP60 | NVELOPE NV3 Carrier Profile, 6.0m Length | Stock | 1 Length |
| NV3LHTUF | NVELOPE NV3 3.5mm TUF-S Leveling Hanger, 348 Pack | Stock | 1 Pack |
| NV3SHTUF | NVELOPE NV3 3.5mm TUF-S Static Hanger, 348 Pack | Stock | 1 Pack |
| NVSVB60-11/6.5 | NVELOPE 60mm Single Vertical Bracket (11 & 6.5mm hole), 150 Pack | Stock | 1 Pack |
| NVDVB60-11 | NVELOPE 60mm Double Vertical Bracket (11mm hole), 75 Pack | Stock | 1 Pack |
| NVSVB40-11/6.5 | NVELOPE 40mm Single Vertical Bracket (11 & 6.5mm hole), 150 Pack | Stock | 1 Pack |
| NVDVB40-11 | NVELOPE 40mm Double Vertical Bracket (11mm hole), 75 Pack | Stock | 1 Pack |
| NV1642 | NVELOPE SR2 16mm x 4.2g Bracket to Rail Screw, 500 Pack | Stock | 1 Pack |
| NV1948 | NVELOPE SR2 19mm x 4.8g NV3 Carrier to Rail Screw, 500 Pack | Stock | 1 Pack |
| NV8010 | NVELOPE 80mm x 10g A4 S/S 316 Primary Masonry Fixing, 50 Pack | Stock | 1 Pack |
| NV5063 | NVELOPE 50mm x 6.3g S/S Metal Fastener & 16mm Washer, 50 Pack | Stock | 1 Pack |
| NV7565 | NVELOPE 75mm x 6.5g S/S Timber Fastener & 16mm Washer, 50 Pack | Stock | 1 Pack |
Gallery
Downloads
Support
Customer Support
For same day design assistance and technical support please contact our sales team directly on the below contact details. All our sales and technical staff are locally based so we can provide the best possible service and support for your project. You can also request a technical data sheet or project quotation using the below email links;
Design and Technical Enquiries
This email address is being protected from spambots. You need JavaScript enabled to view it.
Ben Wallis
Architectural Facade Consultant
08 9451 2344
0437 006 325
This email address is being protected from spambots. You need JavaScript enabled to view it.
www.linkedin.com/in/ben-wallis-6b78772a
Builder and Contractor
This email address is being protected from spambots. You need JavaScript enabled to view it.
Peter Wallis
Architectural Facade Consultant
08 9451 2344
0437 606 033
This email address is being protected from spambots. You need JavaScript enabled to view it.
www.linkedin.com/in/peter-wallis-845133a5