ULTRASURE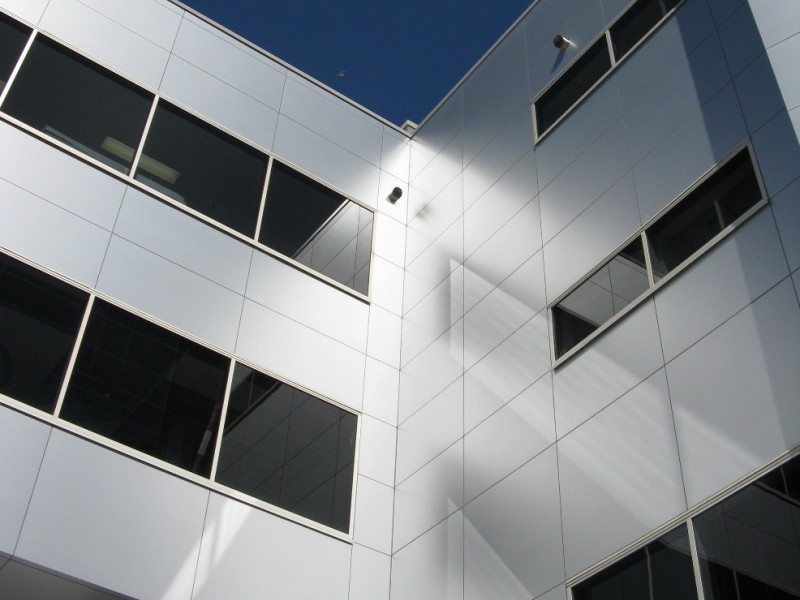 Overview
Finishes
Availability
Gallery
Downloads
Support
Overview
Prefinished Solid Aluminium Panel
Designed to compliment our ULTRACORE non-combustible core panel, ULTRASURE completes our range of BCA compliant, Deemed to Satisfy non-combustible aluminium cladding solutions. The 3mm solid aluminium cassette panel system offers very high impact resistance and can be curved, rolled or perforated. ULTRASURE features the same factory applied PVDF coating system widely renowned for its superior durability and finish quality. Unlike traditional powder coating, prefinished PVDF panels do not require fabrication prior to coating greatly reducing lead-times and costs.
---
Finished Before Fabrication
Unlike traditional powder coated panels, ULTRASURE is prefinished with factory applied PVDF coating and a protective peel-off film before fabrication into cassette panels providing many practical advantages.
---
AS 1530.1 Non-Combustible
ULTRASURE is one of the few aluminium cassette panel solutions that is Deemed-to-Satisfy non-combustible when tested to AS 1530.1 and AS 1530.3 in accordance with specification C1.9 of the NCC/BCA.
---
AS 5113 Fire Testing
ULTRASURE is DtS non-combustible so it does not require further testing however for added peace of mind it has been successfully tested to BS 8414 and AS 5113 by NATA accredited Exova Warrintonfire.
---
Unlimited Custom Colours
ULTRASURE 3mm solid aluminium panel utilises the same PVDF coating as ULTRABOND FR and ULTRACORE so it is available in the same extensive colour range and custom colours. MOQ's apply.
---
Concealed Fixings
ULTRASURE 3mm solid aluminium panel is the same in principle to fabricate and install as traditional aluminium composite panels by CNC routing panels into the concealed fix z-angle cassette system.
---
PVDF Paint System
ULTRASURE 3mm aluminium panel only uses the highly recognises PVDF KYNAR 500 or FEVE paints known for their high durability, providing the optimum resistance to weather and industrial pollution.
---
Curve, Roll or Perforate
The ULTRASURE 3mm aluminium panel offers excellent design versatility as it can be made into panels of almost any shape and size as well as being suitable for curved panels, rolling and perforating.
---
Manufacturer's Warranty
ULTRASURE 3mm aluminium panel coating system has a long track record of consistency, reliability and quality allowing us to offer up to 15 year's warranty when installed by a licensed installer.
---
Finishes
Availability
Availability
Description

Sheet Sizes

Lead Time

MOQ

ULTRASURE Metallic Colours

Custom Lengths x 1250mm

Custom Lengths x 1500mm

8-10 Weeks

300m2

ULTRASURE Solid Colours

Custom Lengths x 1250mm

Custom Lengths x 1500mm

8-10 Weeks

300m2

ULTRASURE Custom Colours

Custom Lengths x 1250mm

Custom Lengths x 1500mm

8-10 Weeks

300m2

ULTRASURE Sparkling & Chromatic Colours

Custom Lengths x 1250mm

Custom Lengths x 1500mm

8-10 Weeks

300m2

ULTRASURE Imitation Finishes

Custom Lengths x 1220mm

Custom Lengths x 1500mm

10-12 Weeks

300m2
Accessories
| Code | Description | Lead Time | MOQ |
| --- | --- | --- | --- |
| UZLW58 | ULTRAZED 24mm Long Z-angle (White Finish), 5.8m Length | Stock | 20 Lengths |
| UZSM58 | ULTRAZED 22mm Short Z-angle (Mill Finish), 5.8m Length | Stock | 20 Lengths |
| UZA2020 | ULTRAZED 20 x 20mm Standard Angle (Mill Finish), 5.8m Length | Stock | 20 Lengths |
| UZA4022 | ULTRAZED 40 x 22mm Standard Angle (Mill Finish), 5.8m Length | Stock | 20 Lengths |
| US402060 | ULTRASTIFF 40 x 20mm Panel Stiffener (Mill Finish, 5.8m Length | Stock | 1 Length |
| TT704412 | BLUECHIP 7044 ACXplus Stiffener Tape, 25m Roll | Stock | 1 Roll |
| GVHEX16 | GALVANISED 16mm 10-16 Hex Head, 1000 Pack | Stock | 1 Pack |
| GVWFR22 | GALVANISED 22mm x 10-16 Wafer Screw, 1000 Pack | Stock | 1 Pack |
System Components
Gallery
Downloads
Support
Customer Support
For same day design assistance and technical support please contact our sales team directly on the below contact details. All our sales and technical staff are locally based so we can provide the best possible service and support for your project. You can also request a technical data sheet or project quotation using the below email links;
Design and Technical Enquiries
This email address is being protected from spambots. You need JavaScript enabled to view it.
Peter Wallis
Architectural Facade Consultant
08 9451 2344
0437 606 033
This email address is being protected from spambots. You need JavaScript enabled to view it.
www.linkedin.com/in/peter-wallis-845133a5
Builder and Contractor Enquiries
This email address is being protected from spambots. You need JavaScript enabled to view it.
Scott Wallis
Facade Product Manager
08 9451 2344
0488 906 444
This email address is being protected from spambots. You need JavaScript enabled to view it.
www.linkedin.com/in/scott-wallis-952726a1