Ultrawood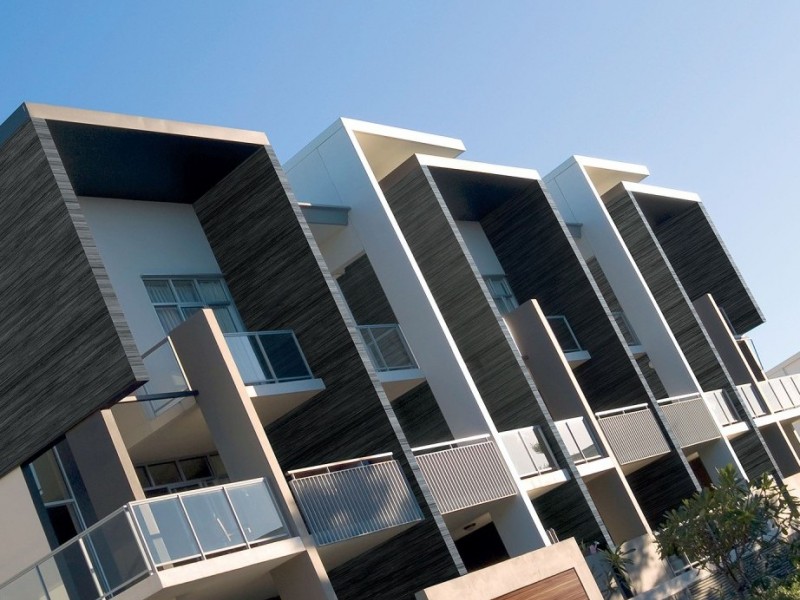 Overview
Finishes
Availability
Gallery
Downloads
Support
Overview
Non-combustible Timber Cladding
ULTRAWOOD is an innovative new generation exterior cladding product made from highly durable marine-grade aluminium and factory pre-finished using the latest matt-effect technology in 28 realistic timber colours. Deemed-to-satisfy non-combustible in accordance with the BCA/NCC, it has been fully tested in Australia by CSIRO achieving excellent results to AS 1530.1 and AS 1530.3. Eco-friendly, low maintenance and incredibly durable, ULTRAWOOD is ideal for type A and B construction projects such as high rise apartments and bushfire rated areas which require non-combustible cladding.
---
AS 1530.1 Non-Combustible
ULTRAWOOD is a non-combustible cladding product in accordance with the relevant requirements of the NCC/BCA and has been tested by NATA accredited CSIRO to AS 1530.1 and AS 1530.3.
---
Intelligent Profile
The ULTRAWOOD profile has been intelligently designed to provide excellent usability such as multi-angle mating and it has one single swarf-free contact point for superior consistency and weather-proofing.
---
Very Light-weight
Compared to many other timber cladding products, ULTRAWOOD is a very light-weight system weighing only 8.75kg per square metre offering potential structural advantages and cost savings
---
Natural Aesthetics
The beautiful looking finish on the ULTRAWOOD boards is possible because the latest matt-effect coating technology provides incredible richness and variation along with outstanding long-term durability.
---
Marine Grade Durability
Along with the marine-grade aluminium base material, the matt-effect ULTRAWOOD coating has undergone extensive durability testing and has been proven to perform in the harsh Australian conditions.
---
Easy Installation
Supplied in custom lengths, ULTRAWOOD has 155mm cover per board making it fast and easy to install to a simple sub-frame at 600mm centres using secret-fix screws and a colour-matched trim system.
---
Manufacturer's Warranty
Despite the undisputed durability of high-grade aluminium, ULTRAWOOD cladding offers a 10yr manufacturer's warranty on all different finishes for peace of mind and guaranteed performance.
---
Colour-matched Trims
The ULTRAWOOD system is completed using the CLADTRIM click-together trim system covering all common construction details and finished in exactly the same matt-effect coating for a perfect match.
---
Finishes
Availability
Profile
| | |
| --- | --- |
| | Specification Code: UW**** ULTRAWOOD 155 x 18 |
Availability
| Code | Description | Lead Time | MOQ |
| --- | --- | --- | --- |
| UWTM | ULTRAWOOD 155 x 18mm Timber-look (Ultrawood Code), Custom Lengths | 5-6 Weeks | 1 Length |
| UWPC | ULTRAWOOD 155 x 18mm Powdercoat (Powdercoat Code), Custom Lengths | 5-6 weeks | 1 Length |
| UWCUST | ULTRAWOOD Custom Profiles Subject to Limitations, Custom Lengths | 10-12 Weeks | 250m2 |
Accessories
| Code | Description | Lead Time | MOQ |
| --- | --- | --- | --- |
| GVWFR22 | GALVANISED 22mm x 10-16 Wafer Screw, 1000 Pack | Stock | 1 Pack |
| CT*SS | CLADTRIM J-shape Starter Strip (Insert Colour), 5.5m Length | 2-3 Weeks | 1 Length |
| CT*YP | CLADTRIM Y-shape Corner Profile (Insert Colour), 5.5m Length | 2-3 Weeks | 1 Length |
| CT*ZP | CLADTRIM Z-shape Joint Profile (Insert Colour), 6.5m Length | 2-3 Weeks | 1 Length |
| CT*CP | CLADTRIM 40mm 2-piece Corner Profile (Insert Colour), 5.5m Length | 2-3 Weeks | 1 Length |
| CT*CS | CLADTRIM 40mm 2-piece Cover Strip (Insert Colour), 5.5m Length | 2-3 Weeks | 1 Length |
| CT*ET | CLADTRIM 40mm 2-piece Edge Trim (Insert Colour), 5.5m Length | 2-3 Weeks | 1 Length |
| CT*4040 | CLADTRIM 40 x 40mm Angle (Insert Colour), 6.5m Length | 2-3 Weeks | 1 Length |
| CT*4020 | CLADTRIM 40 x 20mm Angle (Insert Colour), 5.8m Length | 2-3 Weeks | 1 Length |
| CT*2020 | CLADTRIM 20 x 20mm Angle (Insert Colour), 5.8m Length | 2-3 Weeks | 1 Length |
System Components
Gallery
Downloads
Support
Customer Support
For same day design assistance and technical support please contact our sales team directly on the below contact details. All our sales and technical staff are locally based so we can provide the best possible service and support for your project. You can also request a technical data sheet or project quotation using the below email links;
Design and Technical Enquiries
This email address is being protected from spambots. You need JavaScript enabled to view it.
Ben Wallis
Architectural Facade Consultant
08 9451 2344
0437 006 325
This email address is being protected from spambots. You need JavaScript enabled to view it.
www.linkedin.com/in/ben-wallis-6b78772a
Builder and Contractor Enquiries
This email address is being protected from spambots. You need JavaScript enabled to view it.
Ryan Webb
Timber Cladding Manager
08 9451 2344
0424 755 325
This email address is being protected from spambots. You need JavaScript enabled to view it.
www.linkedin.com/in/ryandavidwebb82