FIRESPAN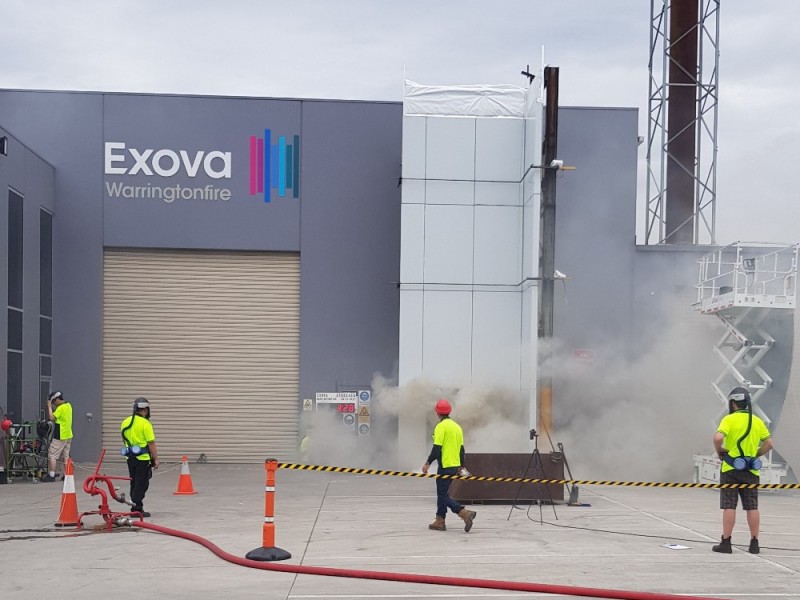 Overview
Availability
Gallery
Downloads
Support
Overview
Non-combustible Sarking
FIRESPAN non-combustible wall wrap and sarking is a heavy duty membrane which is BCA compliant and Deemed-to-Satisfy non-combustible for use in exterior cladding systems on all types of construction. Tested in accordance with AS 1530.1 and AS 1530.3 fire standards, FIRESPAN is availalbe in waterproof and perforated variations. The reflective foil face on one side provides extra R-value when installed facing an air cavity and FIRESPAN is classified as a barrier to radiant heat, moisture ingress, draughts and dust penetration when installed as per AS 4200.2.
---
AS 1530.1 Non-combustible
Since 12th March 2018, Amendment 1 to NCC 2016 requires all insulation in exterior cladding systems (including wall wrap) to be non-combustible on type A and B construction.
---
CSIRO Fire Testing
FIRESPAN has been appropriately tested to relevant Australian standards including AS 1530.1 and AS 1530.3 by NATA accredited CSIRO and is Deemed-to-Satisfy non-combustible.
---
Easy to Use
FIRESPAN sarking is a high strength and ultra flexible product easily adaptable for wrap-around areas and varied surface types therefore quick and easy to install.
---
Anti-tear Strength
With ultra heavy duty foil and multi-layer woven construction, FIRESPAN sarking is able to withstand moderate wind and won't tear of the building when under pressure.
---
High Durability
FIRESPAN has an advanced strength non-combustible fibre-glass and pure aluminium foil structure meaning it offers excellent durability and resistance to delamination over time.
---
BCA Compliant
FIRESPAN sarking has been tested in accordance with relevant Australian standards including AS 1530.1 giving confidence to builders and contractors for suitability on all projects.
---
Water Resistant
The heavy duty facing material structure of FIRESPAN sarking and wall wrap means there is no moisture ingress or break-down ensuring superior long term performance.
---
Protects the Building
During construction FIRESPAN sarking will help protect the building frame from the external elements helping to prevent onset of any degredation or corrosion.
---
Availability
Availability
| Code | Description | Lead Time | MOQ |
| --- | --- | --- | --- |
| FSS13540 | FIRESPAN Waterproof Membrane, 1.35 x 40m Roll | Stock | 1 Roll |
| FSB13540 | FIRESPAN Perforated Membrane, 1.35 x 40m Roll | Stock | 1 Roll |
Accessories
| Code | Description | Lead Time | MOQ |
| --- | --- | --- | --- |
| ITR4850 | INSULTAPE 48mm Reinforced Foil Tape, 50m Roll | Stock | 1 Roll |
| ITR9650 | INSULTAPE 96mm Reinforced Foil Tape, 50m Roll | Stock | 1 Roll |
Technical Data
| Test Item | Standard | Result |
| --- | --- | --- |
| Non-combustible (DtS) | AS 1530.1 | Pass |
| Flammability Index | AS 1530.2 | 1 |
| Ignitability Index | AS 1530.3 | 0 |
| Spread of Flame Index | AS 1530.3 | 0 |
| Heat Evolved Index | AS 1530.3 | 0 |
| Smoke Developed Index | AS 1530.3 | 1 |
| Strength / Duty | AS 4200.1 | Heavy Duty |
| Emittance | AS 4201.5 | 0.03 |
| Reflectivity | Actual | 97% |
| Water Barrier | AS 4201.4 | High |
| Dry Delamination | AS 4201.1 | Pass |
| Wet Delamination | AS 4201.2 | Pass |
| Corrosion Resistance | AS 4859.1 | Pass |
Gallery
Downloads
This email address is being protected from spambots. You need JavaScript enabled to view it.

This email address is being protected from spambots. You need JavaScript enabled to view it.

This email address is being protected from spambots. You need JavaScript enabled to view it.
Support
Customer Support
For same day design assistance and technical support please contact our sales team directly on the below contact details. All our sales and technical staff are locally based so we can provide the best possible service and support for your project. You can also request a technical data sheet or project quotation using the below email links;
Insulation Product Manager
This email address is being protected from spambots. You need JavaScript enabled to view it.
Ryan Webb
Insulation Product Manager
08 9451 2344
0424 755 325
This email address is being protected from spambots. You need JavaScript enabled to view it.
www.linkedin.com/in/ryandavidwebb82