RITEFRAME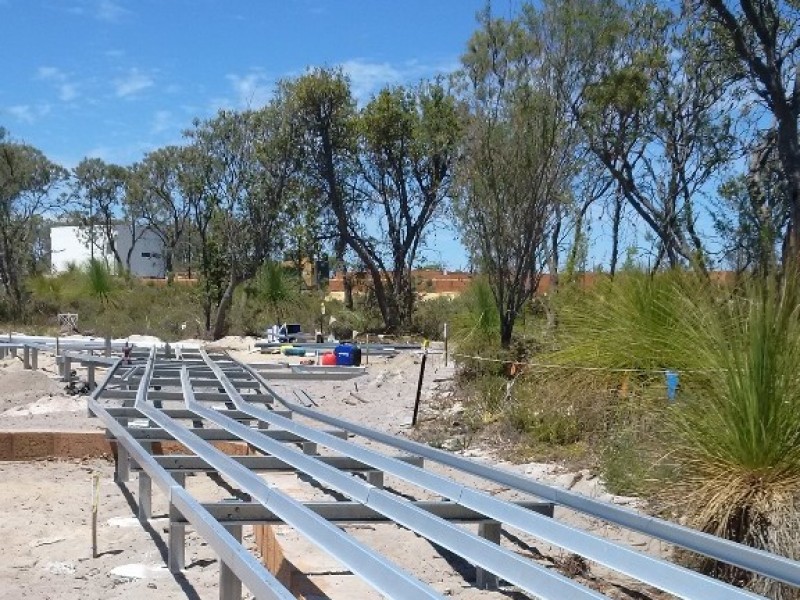 Overview
Availability
Gallery
Downloads
Support
Overview
Deck Framing System
RITEFRAME deck framing (Formerly Deckframe) is a heavy duty steel deck sub-framing system which can be easily used in most decking applications and offers fast, cost-effective installation and excellent long-term durability. RITEFRAME deck framing is made entirely from steel which means it is termite proof and is the ideal solution for any termite and insect prone areas where timber is a concern. Furthermore RITEFRAME deck framing is non-combustible with 0 indices for flame-spread, flammability, ignigtability and smoke development so is suitable for all areas up to BAL 40
---
Australian Made
RITEFRAME deck framing system is manufactured in Australia from high quality galvanised or zincalume steel to ensure ongoing structural performance, durability and longevity in most environments.
---
Versatile System
The RITEFRAME deck framing system is an adaptive, durable and versatile system that can be easily used to create your decking or boardwalk area sub-construction.
---
User Friendly
The RITEFRAME deck framing system is highly flexible and can be used with many types of decking materials such as timber, Rightwood and composite decking.
---
Termite Proof
RITEFRAME deck framing is ideal for use in areas where termites are prevolent because steel is 100% termite proof and not prone to attack like treated timber.
---
Non-combustible
RITEFRAME deck framing is highly recommended in all bushfire areas including BAL40 as it is made from 100% non-combustible steel components and will not burn.
---
Excellent Durability
RITEFRAME deck framing is far more durable than timber and it is guaranteed not to split, crack, cup, bow, warp, rot or burn even in the harshest locations.
---
Fast Installation
Supplied in all 6.0m long lengths RITEFRAME deck framing is fast to install using standard metal working tools and Tek screws and is guaranteed not to give you splinters.
---
Minimal Components
RITEFRAME deck framing has only 6 components and along with standard metal working tools, cement and Tek screws that is all you need to build decks up to 2m high.
---
Availability
Product Range
RITEFRAME
Steel Stirrup
RITEFRAME
Steel Framing
RITEJACK
10-25mm Range
RITEJACK
25-35mm Range
RITEJACK
35-190mm Range
Riteframe Profiles
| Code | Description | Lead Time | MOQ |
| --- | --- | --- | --- |
| RFS300 | RITEFRAME 300mm Steel Stirrup | Stock | 1 Stirrup |
| RFP909020 | RITEFRAME 90 x 90mm Steel Post. 2.0m Length | Stock | 1 Length |
| RFB1005060 | RITEFRAME 100 x 50mm Bearer, 6.0m Length | Stock | 1 Length |
| RFJ754560 | RITEFRAME 75 x 45mm Joist, 6.0m Length | Stock | 1 Length |
| RFE754560 | RITEFRAME 75 x 45mm Edge Joist, 6.0m Length | Stock | 1 Length |
| RFA757560 | RITEFRAME 75 x 75mm Perimetre Angle, 6.0m Length | Stock | 1 Length |
| GVHEX16 | GALVANISED 16mm x 10-16 Hex Head, 1000 Pack | Stock | 1 Pack |
| GVWFR22 | GALVANISED 22mm x 10-16 Wafer Screw, 1000 Pack | Stock | 1 Pack |
Ritejack Pedestals
| Code | Description | Lead Time | MOQ |
| --- | --- | --- | --- |
| RJ1015 | RITEJACK 10-15mm Adjustable Pedestal (Incl Headpeice) | Stock | 1 Unit |
| RJ1020 | RITEJACK 10-20mm Adjustable Pedestal (Incl Headpeice) | Stock | 1 Unit |
| RJ1025 | RITEJACK 10-25mm Adjustable Pedestal (Incl Headpeice) | Stock | 1 Unit |
| RJ2530 | RITEJACK 25-30mm Adjustable Pedestal (Incl Headpeice) | Stock | 1 Unit |
| RJ3035 | RITEJACK 30-35mm Adjustable Pedestal (Incl Headpeice) | Stock | 1 Unit |
| RJ3550 | RITEJACK 35-50mm Adjustable Pedestal (Incl Headpeice) | Stock | 1 Unit |
| RJ5070 | RITEJACK 50-70mm Adjustable Pedestal (Incl Headpeice) | Stock | 1 Unit |
| RJ70100 | RITEJACK 70-100mm Adjustable Pedestal (Incl Headpeice) | Stock | 1 Unit |
| RJ100130 | RITEJACK 100-130mm Adjustable Pedestal (Incl Headpeice) | Stock | 1 Unit |
| RJ130160 | RITEJACK 130-160mm Adjustable Pedestal (Incl Headpeice) | Stock | 1 Unit |
| RJ160190 | RITEJACK 160-190mm Adjustable Pedestal (Incl Headpeice) | Stock | 1 Unit |
Gallery
Downloads
Support
Customer Support
For same day design assistance and technical support please contact our sales team directly on the below contact details. All our sales and technical staff are locally based so we can provide the best possible service and support for your project. You can also request a technical data sheet or project quotation using the below email links;
| | |
| --- | --- |
| Builder & Contractor Enquiries | Architect & Design Enquiries |
| This email address is being protected from spambots. You need JavaScript enabled to view it. | This email address is being protected from spambots. You need JavaScript enabled to view it. |
| Matt Lihou | Ben Wallis |
| Product Manager | Specification Manager |
| 0477 966 028 | 0437 006 325 |
| This email address is being protected from spambots. You need JavaScript enabled to view it. | This email address is being protected from spambots. You need JavaScript enabled to view it. |
| LinkedIn Profile | LinkedIn Profile |